The School Run
My account Subscribers area Subscribe Register
Start your trial for £1.97 today!
Access thousands of brilliant resources to help your child be the best they can be.

The 11+ test in Berkshire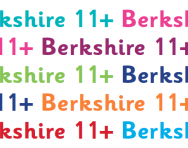 All the facts you need to know about entering your child for the 11+ test for entrance to the Slough and Reading grammar schools.
Which schools require an 11+ pass?
There are six grammar schools in Berkshire, along with one bilateral school: a school that takes all-ability children as well as running a separate grammar school stream, with places allocated on the basis of 11+ results.
Four of the grammar schools are in Slough, and work together as a consortium for admissions ( www.sloughconsortium.org.uk ), which means they use the same test papers and the same eligibility criteria for selecting pupils. The bilateral school and remaining two grammar schools are in Reading.
Langley Grammar School (Slough; mixed)
Herschel Grammar School (Slough; mixed)
St Bernard's Catholic Grammar School (Slough; mixed)
Upton Court Grammar School (Slough; mixed)
Kendrick School (Reading; girls)
Reading School (Reading; boys)
Reading Girls' School (Reading; bilateral)
What do the tests involve?
The Slough Consortium of Grammar Schools, Kendrick School and Reading School all use the same examination, with children sitting the test on the same day. The test aims to assess the children's ability in verbal reasoning , numerical and non-verbal reasoning . The examination consists of two separate multiple-choice papers, each lasting about 45 to 50 minutes. Both papers will cover all three areas and the children have to write their answers on a separate answer sheet.
Reading Girls' School use a different test paper but also assesses children's skills in verbal reasoning, non-verbal reasoning and mathematics, all of which are multiple-choice.
What version of the test is used?
All of the fully selective grammar schools use the CEM 11+ test by the University of Durham. The one bilateral school, Reading Girls, uses GL Assessment tests.
How do you arrange for your child to take the test?
If you are thinking of applying to one or more of the four Slough grammar schools, you need to complete the online registration form which can be accessed from the websites of any of the Consortium grammar schools and return it to your preferred school. As part of your registration form, you will need to have a recent digital photograph of your child ready to upload. Registering your child for the 11+ exam is a separate process from applying for a school place, which you will need to do once you've received their test results. The Consortium website has details of the key dates for admissions. Each of the four schools holds information evenings early in the summer term to explain the 11+ testing process and how to register for the tests, and more detailed information about the arrangements for testing become available in the Spring term when the Slough Consortium Guide to the 11+ Test booklet is updated and made available on each of the schools websites.
Parents who wish their child to sit the 11+ test for any of the Reading schools can complete an online registration form via each of the schools' individual websites. If you're considering applying to schools in both Reading (Reading and Kendrick school only) and Slough, you must read the application form carefully and tick the appropriate statement to request that your child's scores are shared between the schools. Scores cannot be retrospectively shared between Reading and Slough schools after the standardisation process has taken place; this process takes into account your child's exact age at the time of the test, so that older children are not at an unfair advantage.
Where are the tests held?
There are four examination centres in Slough and your child will be allocated a centre on the basis of their primary school and postcode. The Reading test is held in each individual school.
What is the pass mark?
Competition for the Slough schools is fierce, with all four schools heavily over-subscribed. The tests aim to identify the top 30 per cent of pupils based on their performance in the exam – a score of 111 or greater means that your child falls within this range and is considered suitable for grammar school education. The qualifying standard for the three Reading schools varies; you can find more information about admissions on each of the school's websites. In both cases, if there are more pupils meeting the qualifying standard than there are places, the schools will apply their own admissions criteria.
How can I help prepare my child?
CEM doesn't release any past or practice papers, and cautions parents against using any commercially available materials, as they may not bear much resemblance to the actual tests. You can obtain a familiarisation booklet from the websites of the Consortium grammar schools, which will give your child a feel of what to expect from the test so they are more prepared for what to expect on the day.
Practice papers to help children applying to Reading Girls' School, are available to buy from bookshops or online from GL Assessment .
More like this
The beginners guide to the 11+

Verbal and non-verbal reasoning: an introduction

What is a grammar school?

Year 5 maths booster pack

Exam revision planner for SATs and beyond

8 facts all parents should know about the 11+ exam

12 ways to give memory skills a boost and prepare for SATs
Start your 14-day trial
for £1.97 Click here
How to use TheSchoolRun
The Learning Journey
Homework Gnome
Learning packs and workbooks
Primary School tests
News feed
Now on Facebook
Now on Twitter
Is it okay for schools to charge for Christmas play tickets? Tell us what you think.
https://t.co/YgAdciJDlw
@MadeForMums —
2 hours 8 min ago
Is your child struggling with the run-up to #Christmas ? We asked our friends at @scope for their advice.
https://t.co/mJA1tMYS0X —
17 hours 37 min ago
Worth a read before you post your #nativity pics online.
https://t.co/6DNLa9g4W0 —
19 hours 38 min ago
Testimonials
'A priceless resource for modern day parents trying to help their children through those ever changing school years.'
– Hannah-Marie, Surrey
'TheSchoolRun is an Aladdin's cave for primary school information!'
– A Patel, London
'TheSchoolRun is a fantastic resource and full of very useful information re the ever changing school curriculum. A huge thank you to you and your team.'
– Kathy, Twickenham
'Your site is an absolute life saver and my son is already reaping the rewards.'
– Miss Jamieson, Hove
Competitions
Win! A 6 month subscription to Banjo Robinson
Give a child you know a magical gift this Christmas! Banjo Robinson could be your child's new pen pal. Enter to win a 6 month subscription worth over £30!
WIN the new WORD BANDIT game from Drumond Park
WORD BANDIT is the brain teasing board game that's full of suspense and energy… and guaranteed to bring family members of all ages together! Enter now to win a copy worth £24.99 (rrp).
Win yourself a brilliant bundle of books from Lonely Planet Kids!
Win yourself a brilliant bundle of books from Lonely Planet Kids and inspire children to be curious about the amazing world we live in. Each bundle is worth over £80!
View all our competitions
Welcome to the online registration process for
the Slough Consortium of Grammar Schools.
Results of the 11+ Entrance Examination for entry to Year 7 in September 2019.
To view the result, you will need the username and password from your original registration. Results will be available from Tuesday 16 October until 9.00am on Thursday 1 November.
Please read the Statistics Summary and Frequently Asked Questions documents before contacting the Slough Consortium of Grammar Schools with any queries.
Statistics for entry 2018
Frequently asked questions (FAQs)
Links to individual School Admissions
policies and websites:
Herschel
Grammar School website
Langley
Grammar School website
St
Bernard's Catholic Grammar School website
Upton
Court Grammar School website
Herschel
Admissions policy
Langley
Admissions policy
St
Bernard's Admissions policy
Upton
Court Admissions policy
Design by John Bance and Web Union
Ltd; Hosting by Web Union Ltd. – www.webunion.co.uk